Google Chrome is the browser of choice for optimal performance.
How to Access the Dashboard:
Sign in to your Whatnot Account on the desktop site at whatnot.com

Click on your Profile Icon in the top right corner and select "seller dashboard" from the menu.
All of your livestreams are listed on the left hand side of the seller dashboard. Click directly on a Livestream to pull it up.
After you click on your Livestream, all of your sales will populate below. Sales are broken out by Shipment and items in the Shipment are listed

underneath it

.
Important Things To Keep In Mind:
Canceled items appear in a separate table at the bottom of this page. (Accept or reject cancellation requests by locating the order on your Seller Dashboard and choosing "Accept" or "Reject")

Sales are

separated out by buyer and bundled by default.

A maximum of 20 items can be bundled in a single shipment. If you have a buyer with more than 20 items you will be forced to create multiple bundles.

Once you generate a label,

the orders attached cannot be bundled with others or unbundled.

The

Bulk Generate Labels

button allows you to create all your shipping labels with 1 click.

All edits to weight and dimensions must be done first. Both the first and last name fields for your shipping address are required. You may substitute "Shipping" "Department" and/or a Business name to complete these fields.
You can use the Email All Labels button to send a link to your account email address that contains all of the generated shipping labels and packing slips for your show.

Priority mail:

Free packaging available from USPS. Only "Priority Mail Box" packaging materials are supported at this time. You cannot use Priority Flat Rate, Regional, Forever, Express, or any other Priority Mail packaging material as these items are incompatible with labels provided by Whatnot.


First-class mail:

Seller provides their own packaging/materials.
All items purchased by the same buyer are bundled into one shipment by default. If needed, you can unbundle an item to create a separate shipping label if a buyer's order needs to be split into multiple boxes.
If you need to unbundle any of the items in a Shipment:
click the drop-down arrow to the left of the shipment number

tick the checkboxes of the items you want to remove from the bundle

Scroll back up to the top of the page

Click the "

Unbundle Selected

" button

This will change each individual order into its own shipment

If you need to bundle an item back into a Shipment:
tick the checkbox of the item you want to bundle,
tick the checkbox for the Shipment you want to bundle the item into
Scroll back up to the top of the page
Click the "Bundle Selected" button
This will bundle the item into the Shipment you selected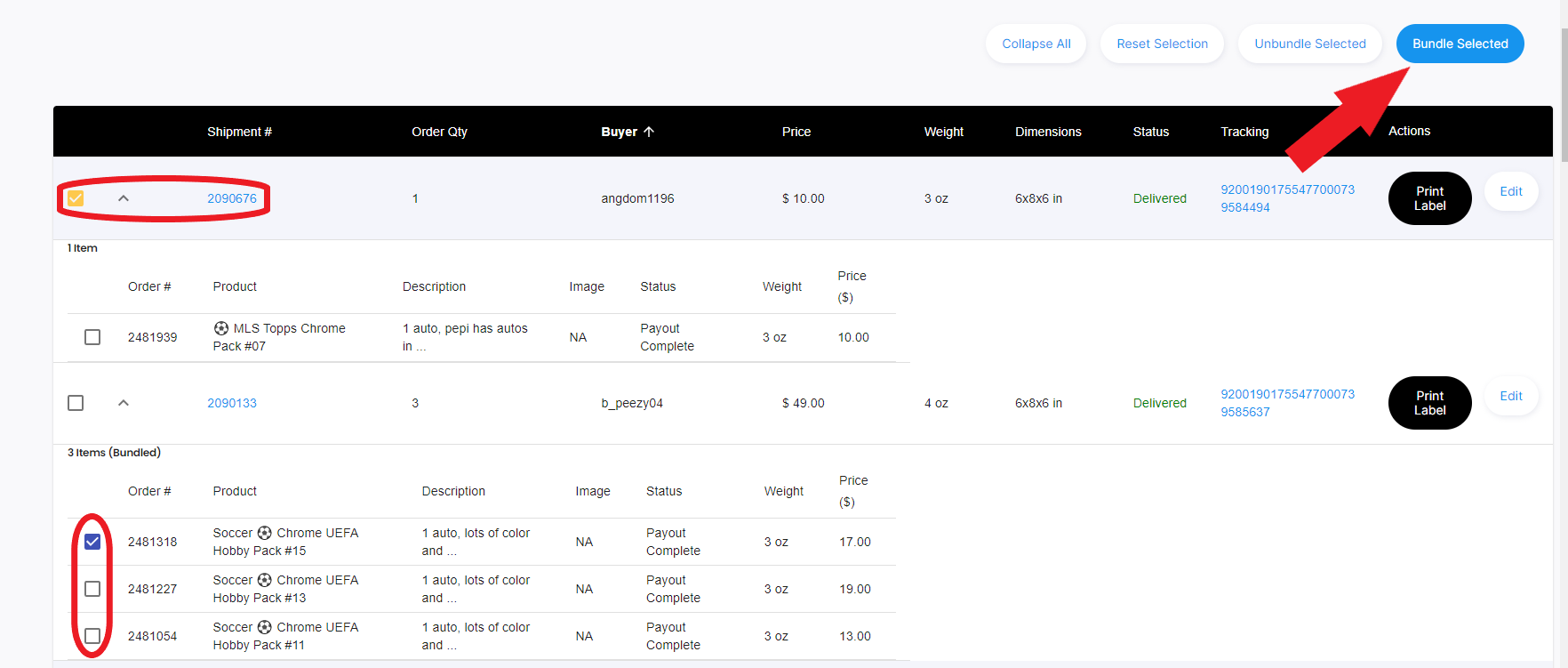 Note: unbundle/bundle your items before generating a shipping label. Once you generate a shipping label you can no longer unbundle/bundle items.
Before you Generate a Label:
Ensure your shipping label settings are correct. You can update your printer settings from within your seller dashboard! Simply choose a show on the left hand side, and select "update label format" from the Edit Seller Settings menu. You can choose between 8.5x11 paper (default) or 4x6 label (thermal). Feel free to reach out to sellersupport@whatnot.com if you need further assistance or have any questions with this!

Update/Confirm your Return Address. This can also be found under the Edit Seller Settings menu by clicking on "update return address". This will determine what name and address populates the return address field on your shipping labels
How to Generate a Label:
Click on the "Edit" option to the right of the label you would like to edit.

Use the "Edit" feature to confirm your package's approximate weight and dimensions (Always better to round up than to round down)

There is a 25x25x25in dimensions limit, and 70 lbs weight limit.

Be careful to select the correct units of measurement from the dropdowns to the right when editing a label! If you have single items not in any bundle, it's still best practice to choose the Edit button to confirm your package's dimensions and weight in order to avoid any issues with USPS.
After you edit the size and dimensions, click "Save." After you click save, you can click "Generate Label" which will generate a tracking number and a label to print off for that Shipment.

You can also use the "

Bulk-Generate Labels

" feature to generate all labels at once after all your edits to weight and dimensions have been completed.

If you make an error and the label has been generated incorrectly, you can go back to the main page and choose "Edit" next to the generated label to correct the errors and then click "Regenerate Label." Your old label will then be voided so do use the old/incorrect label!
After packaging up your items and dropping them off at the Post Office, always remember to click "

Bulk-Confirm USPS Drop-Off". This will mark all of the items as "shipping" and notify your buyers that the items have been sent out.
Packaging Guidelines:
Packaging your items safely is a crucial step in the shipping process. It is essential that your items reach the buyer safely and in the same condition as when you sold them. For more information on packaging guidelines and recommendations, check out our Packaging Guidelines FAQ.
Order Status:
You will notice an order status next to each individual order in your seller dashboard. This order status will give you important information on the position of your order in our system. It is important to note that the status of your order is attached to the tracking information provided by the label you create. Clicking on the tracking number will also pull up the tracking information on the USPS website.

Canceling: there is currently a cancellation request on this order. It is important to accept or reject the request before you proceed with creating a label for the order. You can see the reason for the request, and accept or reject it directly from the Seller Dashboard!
Processing: the sale has been processed and it is time for you to ship the item.

Shipping: you have confirmed USPS Drop-Off and the package is en route to the buyer.

Delivered: the package has been delivered to its final destination.

Payout Complete: the funds for this order have been released to you. You can access your balance from the Payments section of your profile when signed into whatnot.com, or from the Seller tab on your profile within the Whatnot app. Sellers are paid 48-72 hours after an order has been delivered. (For more information on payouts check out our

Where can I deposit my funds?

)
Troubleshooting:
Please refer to all steps in the guide to ensure you have correctly followed the bundle, weight, and dimension restrictions. If problems persist, open an incognito window and try again. For any other issues, please contact sellersupport@whatnot.com.
3
3
Was this article helpful?
3 out of 3 found this helpful