Sellers will receive payment 48-72 business hours upon delivery to the buyer. An order can only be paid out if you have marked the item as shipped.
Live sellers -

Please make sure to click "

Bulk Confirm USPS Drop-Off

" at the top of your shipping dashboard once all labels are generated. This will mark all orders as shipped automatically.

Marketplace sales -

Mark your order as shipped by clicking on the order under the

sold

section of the app. Here, you will see a button to confirm as shipped.
If Whatnot needs to verify an item, you will receive payment as soon as we complete the verification process.
Payout Status
To check the status of a payout for a live order, please reference your shipping dashboard. At the top of your seller dashboard you can locate your total items solved, delivered, and pending delivery. If you have orders that are pending delivery, you can be assured you have not been paid out for that item.
You can locate the order that has not been delivered by finding the blue Shipping status. Click on the tracking number to get the latest tracking updates for this package.

You are also able check the payout status of each individual order by expanding a shipment. If the status shows as "Payout Complete" this means the funds have been released to your balance. If it shows anything else, the order is still pending delivery.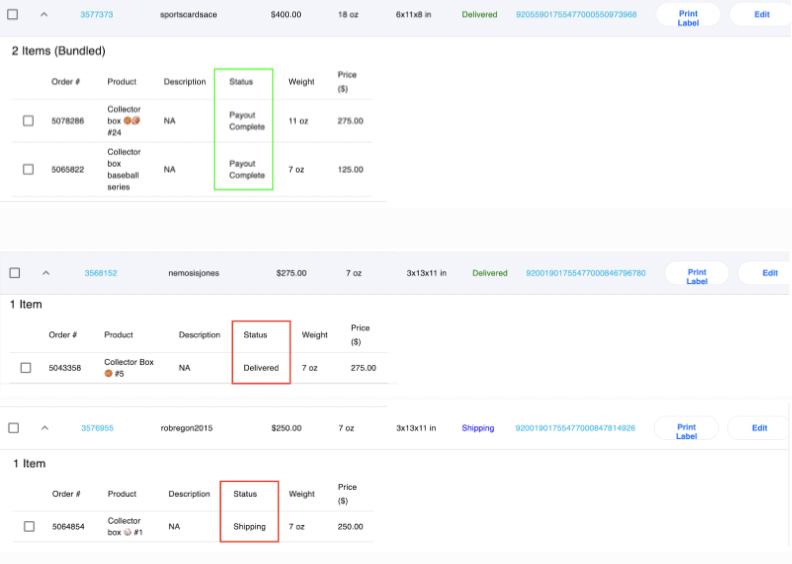 If it's been over 72 hours since delivery and you have not received your payout please contact sellersupport@whanot.com with the tracking number & shipment number located to the left of the buyer's username in blue.
5
-1
Was this article helpful?
2 out of 5 found this helpful